Testimonials for Cathy, Riverbank Floristry, Derbyshire.
These testimonials always make me blush. However, I hope that they show you just how much I care about my customers and my work.
Cathy 07919 487468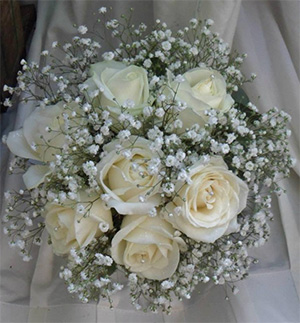 "I would like to thank Cathy for what can only be described as works of art that she crafted for our wedding. The brief was 'be as creative as you like.' My best man could not believe that Cathy hadn't actually seen the outfits that Neil and I were wearing as the range of bouquets and buttonholes matched perfectly.  The attention to detail was second to none.
The whole experience was inspiring; Cathy is passionate about her flowers and making your big day exceptional. In fact, I don't believe I have ever met anyone who is so passionate about their job, clearly for Cathy, floristry is not a job, it's a vocation.
I would highly recommend Riverbank Floristry.
Lisa & Neil Harvey
---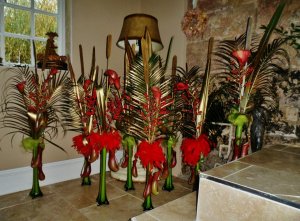 "Cathy's attention to detail and her eagerness to create something magical, personal and exciting is inspiring. She is a lovely, warm person, genuinely interested in what you do and don't like.
She took on board that it was a corporate event with some key contacts attending. The centrepieces needed to be eye-catching and a talking point; indeed they were! The flowers were auctioned off after the dinner, raising a brilliant amount of £205 towards our grand total.
Cathy is so passionate about flowers and really strives to make the end creation personal to you.
I highly recommend Cathy at Riverbank Floristry to provide the flowers for your personal, corporate or charitable event. That special person in your life deserves special flowers – and you can certainly trust Cathy to arrange something perfect for mum on Mother's Day, or your loved one on Valentine's Day.
Thank you for your support of the British Heart Foundation."
Sophie Jardine. British Heart Foundation.
---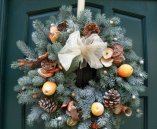 "I can personally recommend Cathy. She produced the most beautiful Christmas Wreath which is the finest I've ever seen. She has also produced a beautifulbouquet for a lady in the office and everyone commented on how striking they were.
Cathy is also a lovely person who will ensure that you receive a supreme experience and not just a bouquet of flowers."
Nino Simone. Geldards Solicitors, Derby
---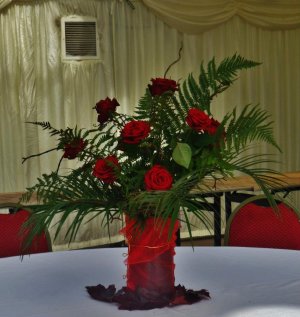 "I met Cathy during a networking event and I was immediately drawn to her personable and friendly nature. I hired Cathy to do 12 centrepieces for my wedding reception at The County Ground Marquee. I told her I wanted red roses in the arrangements but I was happy to trust Cathy to create something of her own design.
What she came up with was completely beyond my expectations. They were beautiful and all of my guests were blown away by them. I gave a guest from each table an arrangement to take home with them at the end of the night and they all loved them.
Thanks Cathy, I will definitely be contacting you again for any further events."
Lindsey Hatfield. Holiday Inn, Derby.
---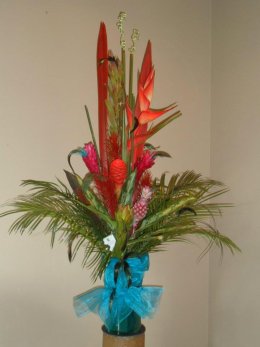 "My client was over the moon and was astounded by the exquisite arrangement that Cathy at Riverbank Floristry had produced. I saw the flowers first hand and they were indeed, very beautiful - I certainly could not have bought anything like it in the shops.
When I arrived at the venue, Cathy had already set up the displays; four amazing, vase encased, tropical flower arrangements. They looked magnificent and made a change from something you could buy off the shelf.
At the end of the evening each arrangement was presented to four special guests to take home - a truly unique souvenir from a great event.
I would highly recommended Cathy from Riverbank Floristry to anyone who is thinking about using floral displays at their wedding, as a special gift, for a corporate event or even to brighten up the workplace.
Thank you Cathy for all your hard work."
Yvonne Gorman. Essential Print Services.
---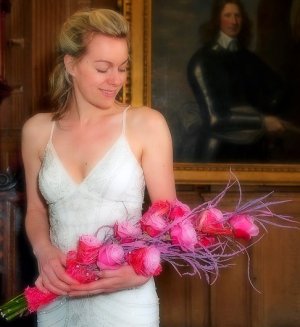 "I regularly bought flowers from Catherine when she owned Anthurium in Duffield. It was regarded as the finest florists in the region, with good reason. Catherine always dared to be different, sourcing the more exotic and classier blooms.
It's a joy to have her back in the business; and choosing to be bespoke is a perfect move for her. She adores her flowers, is very knowledgeable, and she is so personable, too.
A woman to do business with!"
Ashley Franklin Photography.
You can see more photographs of my arrangements and bouquets here.
Contact us today for more information,
Cathy 07919 487468